Drinks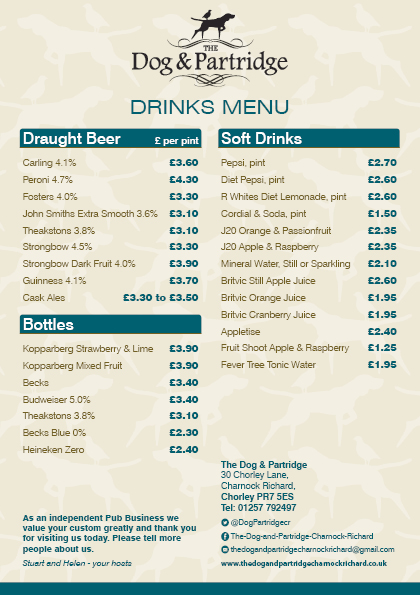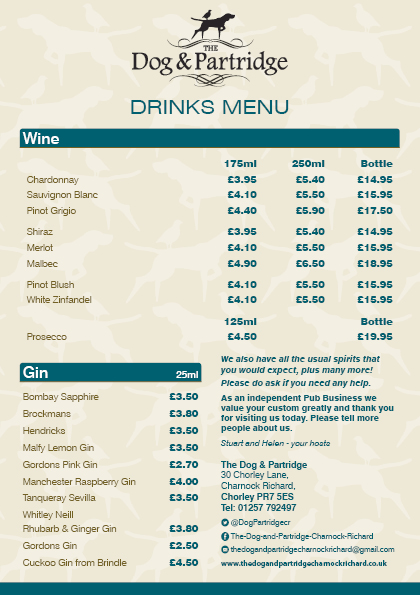 Becks
, Becks
(5.0%)
Every bottle of Becks is brewed according to the uncompromising German Reinheitsgebot (Purity law). With a strong and committed heritage, Becks has had only 6 brew masters throughout a 125 year history.
Heineken Zero
, Heineken
(0%)
Heineken 0.0 is brewed from scratch and has a perfectly balanced taste with refreshing fruity notes and a soft malty body.
Hobgoblin Gold
, Wychwood Brewery
(4.2%)
Hobgoblin Gold is the latest beer carrying the little fella's moniker, and while Gold might be lighter in colour, it's definitely no lightweight
Kopparberg Mixed Fruit
, Kopparberg
(4.0%)
Bursting with blackcurrants and raspberries, Kopparberg Mixed Fruit Cider spoils you
Kopparberg Strawberry & Lime
, Kopparberg
(4.0%)
Kopparberg Strawberry & Lime Cider is perfect for Summer BBQs. Drink it over ice and the job's done.
Peroni, Nastro Azzurro
, Miller Brands UK
(5.1%)
Brewed from the finest spring planted barley malts, Peroni has a unique balanced taste with a delicate aroma arising from the hops of the most exclusive varieties.
Theakston Best
, Theakstons Ltd
(3.7%)
The quintessential English mid strength ale – a perfect balance of malt and subtle hops.
Becks Blue
, Becks
(0.0%)
Beck's Blue is a light, crisp and refreshing alternative with no compromise on taste. Beck's Blue adheres to the strict Reinheitsgebot. Only when the distinctive Beck's flavour has been allowed to fully develop is the alcohol removed.
Budweiser
, Budweiser
(5%)
Fresh and subtle fruit notes, a delicate malt sweetness and balanced bitterness for a clean, snappy finish.
Sharp's Doom Bar Amber Ale
, Sharp's Brewery Ltd
(4.0%)
Doom Bar Bitter is named after an infamous sandbank at the mouth of the Camel Estuary in North Cornwall.
Tribute
, St Austell Brewery
(4.2%)
Tribute is an easy drinking pale ale.
Carling
, Carling
(4.1%)
Carling has been Britain's best selling lager for more than three decades. It is brewed to have the perfect balance of sweetness & bitterness ensuring it is as brilliantly refreshing from the first sip to the last.
Foster's
, Heineken
(4.0%)
A pleasant, fruity, lighter-styled quaffing lager
Guinness Draught
, Guinness
(4.1%)
Guinness is an Irish dry stout that originated in the brewery of Arthur Guinness at St. James's Gate, Dublin. Guinness is one of the most successful beer brands worldwide.
John Smiths Extra Smooth
, John Smith's Brewery
(3.6%)
John Smith's Extra Smooth was launched in 1993 and is now the nation's number 1 ale.
Strongbow
, Heineken
(4.5%)
Strongbow gets its distinctive flavour and cut-through refreshment through the unique blends of bittersweet British cider apples from our Herefordshire orchards.
Strongbow Dark Fruit
, Heineken
(4.0%)
Crisp Strongbow cut with a blend of dark fruit